Top Tips to Manage your December Waste
This Christmas, be aware that the waste produced from presents, food and drink over the festive season may attract unwanted pests.
Rodents such as rats, mice and foxes are attracted to the leftover scraps of food to eat, and shelter that can be provided by boxes and wrapping paper that has been thrown out.
Below are five of our top tips to help avoid unwanted attention and reduce the amount of waste created over Christmas: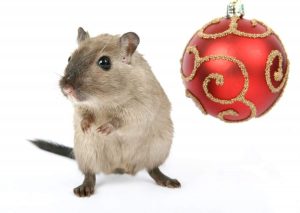 Always make sure your bin lid closes: Don't leave bin lids even slightly ajar, as rodents will be able to get into them, and maybe even knock them over. This will mean that more rubbish is spread across the floor, attracting other vermin who are looking for the same thing.
Use communal recycling bins: Get rid of what you can by recycling paper, cans and bottles at community recycling banks. This will reduce the amount of waste you have lying around your home waiting for council waste collections, and will also help do a bit for the environment.
Keep leftover food in seal tight containers: Ensure that your leftovers are not easy to get to by storing them in a seal tight container or wrapped in cling film or tin foil, and then inside a fridge or cupboard that pests cannot access.
Use bin bags: Keep your rubbish sealed in bin bags inside a kitchen bin to make access for rodents even harder. Loose items of rubbish will be easy for them to get to, and will attract even more as they smell and find the rubbish inside.
Regularly empty your bin inside your home: Keeping your bins from overflowing will also keep rodents from inside your home. Don't leave rubbish laying around, as this will only attract vermin to the smell and waste.
If you do find yourself with a pest problem this Christmas, do not hesitate to contact us to find a way to help. We are a fast and friendly call out service, and understand that you need a quick response and service to sort your problem.
Most people admit to throwing out twice as much food during the festive season than any other time of the year, so don't give rodents a reason to visit this Christmas.
Merry Christmas to everyone we have worked with this year, and to those we are yet to meet.