Flea Control and Flea Removal
With over 25 years' experience in pest control, including Flea Control, Confirm a Kill are a team of specialists who work in Nottingham and surrounding areas. All our work is fully guaranteed and as members of both Prompt and NPTA we can provide you with total peace of mind when dealing with unwanted pests. Our discreet and professional service is used by both homeowners and businesses across Nottinghamshire.
All our pest control services, including flea control, start with a free, no-obligation assessment. Once we understand the issue we will then provide a competitive quote which is covered by our price match promise. This guarantees you the lowest price for the work. If you should find a like for like service that is cheaper then we will happily match it.
---
 Nottingham Flea Control Experts
As pest control experts we know exactly what needs to be done if you think your property has a flea infestation. We have dealt with fleas in a wide range of environments including both domestic and commercial properties and even public transport such as buses and trains. Many people believe that you only get fleas if you have pets, but the eggs can be transported passively on fabrics and furnishings. If you think you do have fleas in your property the first thing to do is collect a sample of any flea traces to help in identification. Next, contact Confirm-a-Kill who will advise you on the best course of action.
Fleas in the UK
There over 60 different species of flea known to inhabit the British Isles. The most common flea is the cat flea and is known to bite humans. The second most common flea is the bird flea followed by the dog flea. There is a human flea, thankfully this is now very rare in the UK.
Fleas are parasites who suck blood from other living creatures. They are wingless insects about 2.5mm long. Fleas can jump to heights of up to 8 inches which is 150 times their own height. The appearance of a flea is shiny and red in colour and they prey on animals with fur such as dogs, cats, rabbits, mice and squirrels.
Flea Bites
Although fleas mostly dwell on animals with fur they are also known to inhabit furniture and carpets. With such leaping power, this means that they can jump onto humans to suck blood and then jump back to soft furnishings.
As flea's suck blood they leave bite marks on the skin which normally appear in clusters or straight lines. When the flea bites they also inject a tiny amount of anaesthetic, so you rarely feel a bite at the time. After the anaesthetic wears off the bites can feel slightly irritating and sometimes get mistaken for mosquito bites. It's important not to scratch a flea bite on your skin as this can cause an infection.
The Flea Lifecycle
There are 4 stages to the life of the flea;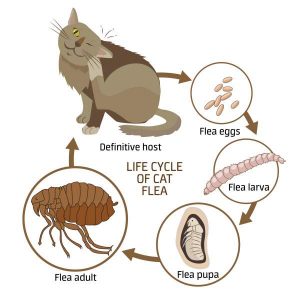 1.Eggs: Female adult fleas lay up to 40-50 eggs a day. The eggs are small, the size of a grain of salt. Unlike many other pests, flea eggs aren't sticky so they roll off the animal fur and can end up anywhere.
2.Larvae: Flea eggs hatch into larvae in 1 to 14 days depending on the temperature of the area they are in. Larvae are small thin and white measuring 1 to 2 millimetres in length. They develop by eating pre-digested blood (known as flea 'dirt') from adult fleas and other organic debris they find.
3.Pupae: In favourable (warm) conditions larvae spin cocoons in about 5-20 days of hatching from their eggs. The cocoon protects the pupae before the adult flea emerges. A sticky outer coating on the cocoon allows them to hide deep in carpets and is not easily removed by light vacuuming or sweeping. If environmental conditions aren't right (too cold or no animal host) the adult flea may not emerge for months and sometimes, years.
4.Adult Fleas: When a suitable host is sensed the adult flea will emerge from the cocoon. Adult fleas will need to feed on a host within a few hours. Shortly after the first meal adult fleas will breed and begin laying eggs within a few days.
Problems Caused by Fleas
Fleas themselves are not dangerous but their bloodsucking nature can pass on infections to animals. If young or frail animals have fleas the blood loss can cause them to weaken further and, in some cases, die.
As fleas bite, they inject saliva into the host which can cause an allergic reaction. This allergy is most commonly found in dogs.
Flea larvae can become infected with tapeworm eggs. If your pet eats an infected flea it can become host to this parasite. If your pet has fleas you should also make sure your pet is treated for worms.
Eliminating Fleas
To reduce the risk of your property having a flea infestation there are precautions you can take;
• If you have pets, ensure they have regular flea treatments as recommended by your vet.
• Regularly vacuum floors and furniture. Empty vacuum after each clean.
• Wash pet bedding and toys in hot soapy water every week.
• Use natural plant deterrents such as Chrysanthemum, Lavender and Mint.
Professional Flea Control in Nottingham
If you are concerned that you may have a flea infestation we can help you. Contact us today to arrange a free no-obligation quote and we can advise on how to treat the problem. Often once you notice a flea infestation the fleas will have been in your property for a while. It's important to have it thoroughly treated before it gets worse.
---
Flea Control – Areas We Cover
Nottingham & Surrounding Area
Nottingham – Mapperley – Carrington – Beechdale – Lenton – Gedling – Arnold – Broxtowe – Eastwood – Kimberley – Woodthorpe – Hyson Green – Trowell – Bramcote – Wilford – Beeston – Colwick – West Bridgford – Bestwood Park – Daybrook – Hucknall – Ravenshead – Linby – Redhill – Papplewick
Mansfield & Surrounding Area
Mansfield – Rainworth – Blidworth – Sutton in Ashfield – Kirkby in Ashfield – Ollerton – Southwell – Newark
---