The Sun is out…and so are the wasps
Summer has almost hit us…be wary of the wasps that are bound to terrorise you.
That can only mean one thing, a couple of months of being terrorised by wasps whilst going about your business.
With a wasp sting being potentially fatal to some due to the venom that is released through the stinger, here at Confirm A Kill, we recommend you stay vigilant to make sure a wasp sting isn't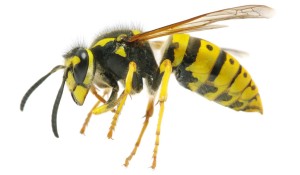 ruining your sunbathing, gardening or BBQ time. If you're interested, here's a few facts about the famously vicious wasps:
The stinger of a wasp is only on females – it's actually modified egg laying organs that are part of their bodies.
The sting of a wasp contains a chemical called pheromone – when released into the air, this causes other wasps to get aggressive and violent.
Wasps are civilised – in the broad sense of the word, wasps form communities in which they have a hierarchy: queens, males and workers.
These facts may make wasps appear as if they are somewhat harmless individuals, however, if you see a lot of them around, it could be the home of a wasp colony. These are considerably dangerous and should only be removed or disturbed by trained professionals.
Wasp stings to some can just be an irritation of the skin, however to a few people, the venom within the sting can cause anaphylactic shock, which potentially can be fatal to those with serious allergies to the venom.
Wasp Nest Removal
We provide wasp nest removal for corporate and domestic settings and use tested methods of removal. Using a specialist insecticidal spray that kills wasps within a matter of hours, our experts who are members of the National Pest Control Technicians Association adhere to the CRRU code, minimising the environmental impact to the area.
Whether you just find them irritating or whether you're allergic to them, if you see increased wasp activity around your home or garden, make sure you contact us.