Spring Surprises: Mole Control
This is our final instalment of the series and is all about Spring Surprises: Mole Control
The saying goes, "Don't make a mountain out of a molehill" but with the ability to tunnel up to 4 metres an hour destroying your lawn and grounds, tackling moles can actually feel like a mountain to climb!
Moles like any soil that is suitable for tunnelling and can affect your home and your business, favouring playing fields, woodlands, parks, cemeteries and golf courses where there are lots of worms, slug, insects and larvae for them to feed off.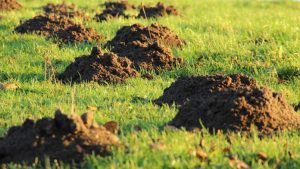 We can help eradicate your mole problem in a safe and humane way to protect other wildlife using traps. This method can be time intensive but is very efficient.
Contact us today for a free competitive quote
Tweet us using #SpringSurprises to get help with your pest control issues.