#NuisanceNovember: Pigeon Proofing
As people begin to start their Christmas shopping, the last thing you want is pigeon droppings putting them off coming into your shop.
Feral pigeons are a well-adapted pest in the city, feeding on scraps of food they find and setting up nests in and around central buildings. With this comes significant mess. Their nesting materials and droppings are unsightly and smelly, and can cause bricks of buildings to corrode.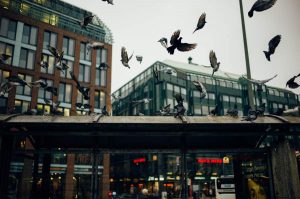 Nottingham's most common bird pest, pigeons are known to carry several potentially infectious diseases, including tuberculosis, salmonella, as well as allergens which can be dangerous to humans.
Pigeon infestations often occur on rooftops of buildings, windowsills, ledges and other convenient surfaces. Their corrosive droppings can then deface walkways, equipment and vehicles below.
We provide a number of different solutions to get rid of your pest control problems:
For all areas with ledges and sills: Control spikes are 100% effective in preventing pigeons from landing and setting up their nests in a variety of areas.
For enclosing areas from birds: Bird netting is very effective in keeping birds from entering spaces, and comes in different size and thickness to provide a solution to all kinds of infestation.
For outdoor areas: Pigeons are attracted to public spaces where they can find food and shelter. Repellent devices will keep pigeons away from large outdoor areas, and the left over foods left by tourists and visitors. Keeping areas as clean as possible will result in the most effective results.
For small, covered areas: We use balcony guards to prevent pigeons from resting on balconies and ledges. Silent to most humans & motion-activated, this product protects small spaces from birds.
If you think you have a pigeon problem, contact us today. We will come and conduct a full survey to discover the extent of the infestation, and then come up with a plan of how best to get rid of them. Send us a question using the #NuisanceNovember hashtag on Twitter and get involved with our discussion.