Rodents In Your Christmas Decoration Boxes
In a couple of weeks time, many people will be heading up into their loft spaces and dusting down their Christmas decorations ready for the festive season to commence. Whilst doing so, you might discover some unwanted gifts that may lead you to believe you have a pest infestation.
Hopefully when retrieving your decorations, you get nothing more than glitter on your hands, and not debris (or worse) from destructive pests. This blog talks you through the telltale signs to look out for, what to do to stop pests ruining your Christmas plans, and preventative measures for next year.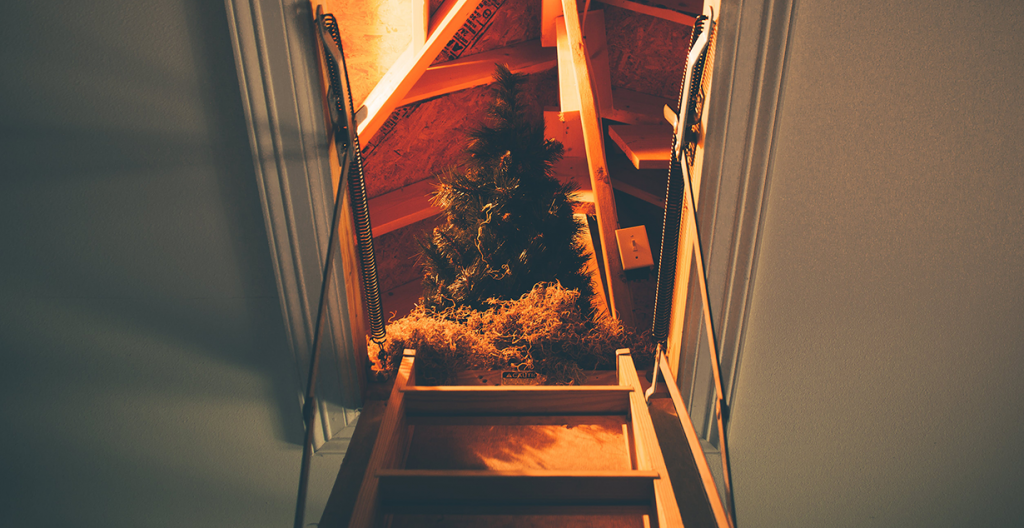 What Pests Could Be Lurking In Your Christmas Decoration Storage
The three main culprits who could put a damper on your festivities this year are rats, mice, and squirrels. When the winter season sets in, these pests seek shelter and warmth indoors, and unsealed boxes in loft spaces make the ideal place for a cosy nest.
It's important to act fast if you discover the telltale signs found below, as infestations can spread rapidly. To make matters worse, not only can they cause damage to wiring and your loft's insulation, but they will soon be tucking into your Christmas buffet and leaving urine and droppings all around your property; becoming both a health and fire hazard. Which, I'm sure that we can all agree, wouldn't make your celebrations all that merry.
How To Inspect Your Christmas Storage For Rodent Infestations
Before starting to inspect your boxes, take a look around the area for any activity. Listen for noises, like scratching sounds, in your loft or inside partition walls. If the area is dusty, often a rodent's footprints will also be clearly visible.
When unpacking your decorations:
Take your boxes outside to unpack. If there are any pests still within the boxes themselves, it will allow them to scurry away outdoors rather than into other areas in your home.
Before opening the boxes, inspect them for any gnaw marks.
Once inside the boxes, look for chew marks or damage to decorations or Christmas lighting.
Check if there are any droppings in and around the bottom of the boxes.
Assess if there is a strange ammonia-like smell.
Look for grease marks resembling brown smears.
If using cardboard boxes, discard them when emptied.
To be safe, be sure to wipe down your decorations before putting them up and thoroughly wash your hands after completing the inspection.
Please note, if there is damage to ornaments and lighting, these should be discarded due to them now being a safety risk.
What To Do If You Discover A Pest Infestation
If you think you removed the pest when taking the boxes outdoors, it's still important to work out how they got inside in the first place. Rodents can squeeze through the smallest of holes, so check around the perimeter of your property for any entry points and seal them up. In particular, focus on gaps around windows, door frames, pipes, and brickwork. However, just because you may have removed one rodent, does not mean that you may have fixed the problem, due to how fast they reproduce.
We recommend having a thorough survey completed by a pest control expert. Our team will not only assess where they've gained access to your property, but we can remove the problem entirely. We'll also provide safeguarding advice for the future to make sure that you stay pest free throughout the winter months and beyond.
Preventative Storage Techniques To Keep You Pest Free
The good news is, if you undertake the correct storage methods, you won't have to perform this task annually when unpacking your decorations.
When packing away your decorations:
Check over your ornaments, wreaths, garlands, artificial trees and lights for bugs before putting them away.
Wrap ornaments in bubble wrap to protect them against moisture and pests.
Do not use cardboard boxes, as pests are attracted to these. Instead, use plastic storage containers with sealable lids.
Store any scented items separately. Place these items within a ziplock bag and in thier own sealed box. An exception to this rule is cinnamon, as it is a natural pest repellent.
Keep items of cloth folded and sealed in a ziplock bag, before placing them in plastic storage.
Dispose of any edible items if used for decorative purposes. These will most certainly appeal to pests.
If you had a live tree, this should be disposed of properly to avoid rodents seeking shelter under them.
Make sure your containers are securely sealed.
Though next year you may not have to inspect your decorations, we'd still advise routinely checking around your property for access points and looking for any signs of an infestation in your loft space. If you find you have a problem, our team will be here to help you with all your pest control needs, even if it's in an emergency over the festive season.