Being part of PROMPT
Confirm A Kill are proud to be registered members of the Professional Pest Controllers Register.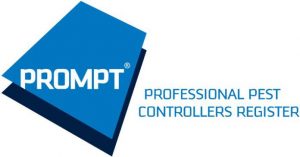 PROMPT ensures that pest control is carried out responsibly by people who are properly trained and competent.
We are always looking out for new courses to help us learn. We know that this way we can broaden our services, improve our techniques, and be at the top of our game when it comes to pest control.
The BASIS PROMPT Pest Controllers register is an industry initiative which provides independent proof that a pest controller has received proper professional training and has continued to update their expertise through Continuing Professional Development (CPD).
As registration has to be renewed each year, members of the register will always be aware of the most up-to-date techniques, products and legal obligations.
This way, we can show that we are trusted, reliable and dependable pest control service in Nottingham.